There are many styles of coil brazers. Each one is customized for copper and aluminum, tall and short, and have many ways to move the slabs through the process.
Inline Belt Coil brazers
Inline belt style brazers are the most common and the most flexible. The cores move from the inlet of the brazer to the exit and work well in most plants where material flow moves in a linear direction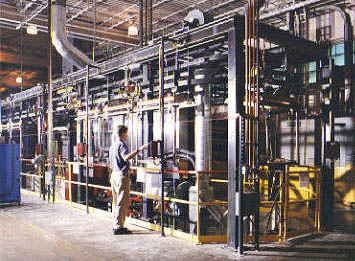 Overhead Conveyor Brazers
When cores get very long, as they do in the case of condenser coils, the flange can be turned down to support hanging the core. That is when overhead systems can be used.
On Site Consulting and Training
Your crews and your products are always changing. We can come to your site and benchmark your processes and practices to optimize production. Call today for more infomation about how we can help.